Introduction
:
Trichy, which was once known as Tiruchirapalli is located at the banks of the Cauvery River. It is the fourth largest city of Tamil Nadu. This city of Tamil Nadu is a fine mixture of the modern and the traditional architecture as is evident from the Rock Fort. There are also several olden days churches, colleges, and missions of 1760s but it is excellently furnished with modern facilities. We can say that Trichy is a good specimen of east-central Tamil Nadu. Trichy is further distinguished with the presence of one of the oldest rocks of the world that stands 83 meters high.
History
: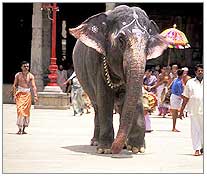 Trichy was the early citadel of the Chola Empire and later it fell in the hands of the Pallavas. The Pandyas many times due to their mismanagement defeated the Pallavas on and off. In the mean time the Cholas return into power and ruled till the end of the 10th century. Later the power of the land rolled to the Nayaks passing to the Marathas then Nawabs of Carnatics, French and to the British. The rule of the Nayaks marked a change in the history of Trichy, as it was phase when Trichy was lifted to prosperity in all aspects and came to the position of today's Trichy.
Travel information
:
Trichy is located at the height of 78 m above the sea level. It has a pleasant tropical type of climate. The temperature all over the year varies from a minimum of 20 degree Celsius to a maximum of 37 degree Celsius. Tourist season is open round the year. The airport of Trichy is 5 km far from the main city. Indian Airlines is connecting Trichy with local as well as foreign places. Chennai, Calicut, Cochi, Sharjah, Kuwait, and Colombo are regular air route from Trichy. The Indian railway also connects Trichy with almost all the main cities and states of south India. The roadways connect local places and also the interstate mobilization.
Places to See
:
Ranganathaswamy Temple is one of the most visited tourist spot in Trichy. It is also claimed as the largest temple in India as it is spread over the 600 acres of land. The rulers of Pandyas, Cholas and Hoysalas contributed for centuries in building up this temple. Rock Fort Temple is another beautiful temple built over 83-meter high old rock outcrop. The Viralimalai Sanctuary is 30 km far from Trichy. This sanctuary is located around the Murugan Temple. The wild peacocks are the main attraction of this place. Many other tourist centers like Natarwala Darga and St. John's and Lourdes Church are also the major places to see.
Trichy Places to See - Best Price with Free Itinerary Suggestion