Introduction
:
Prominently eminent throughout the world for the best riding camel in the world, Bikaner is also known as the Camel Country. Fortified by a 7 Km long tough wall with five gates, this royal city contains magnificent Forts and Palaces in reddish-pink sandstone and is therefore, worth visiting and exploring.                                                Other nearby places for touring concern are Junagarh Fort, Lalgarh Palace, Raj Ratan Bihari Temple and the Rasik Shiromani Temple and of course, the Ganga Golden Jubilee Museum which is one of the best museums in Rajasthan
Lalgarh Palace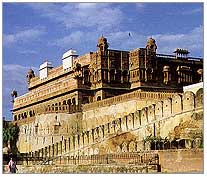 Built by Maharaja Ganga Singh in memory of his father, the Lalgarh Palace is situated 3 km north of Bikaner city. Designed by Sir Swinton Jacob, the palace is quite imposing with overhanging balconies and delicate latticework. Peacocks and blooming bougainvillea in the garden welcome the visitor to the palace. To promote tourism, the Rajasthan Tourism Development Corporation has converted a portion of this palace into a hotel.
Ganga Golden Jubilee Museum
One of the best museums in Rajasthan, the Ganga Golden Jubilee Museum has one of the richest collections of terracotta ware, weapons, miniature paintings of Bikaner school and coins dating back to Harappan civilization and Gupta and Kushan era.
Raj Ratan Bihari and Rasik Shiromani Temple
These temples are situated inside the Ratan Bihari Park on the northern side of KEM road. Built in early 19th cent by Ratan Singuji and Sardar Singuji. They are of red sandstone and constructed in a mansion style of architecture.
Bikaner Places to See - Best Price with Free Itinerary Suggestion