Introduction
:
Rameshwaram is a city belonging to the state of Tamil Nadu. It is an island city situated at the Gulf of Mannar at the end tip of the Indian peninsula. It is one of the most important pilgrimage centers of India. Here, Lord Rama built a bridge with the help of his devotee apes to regain his consort Sita from the grip of Ravana. Rameshwaram is a big pilgrimage center for the Hindus as both the devotees of Rama and Lord Shiva comes here for worship. Lord Rama worshipped Lord Shiva in this place to cleanse his sin of killing Ravana. It is also known as the Varanasi of the south.
History
: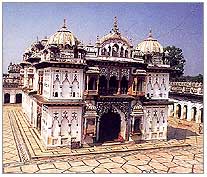 The history of Rameshwaram draws back to the golden age of the epic Ramayana. It is mainly based on mythology. Lord Shiva thanked Lord Rama for killing the demon Ravana at the battle of Sri Lanka here in this holy place of Rameshwaram. Based on this belief, all the devotees of Rama and the devotees of Shiva are attracted towards this holy eventful place of Rameshwaram. The kingdom of Ravana is 24 km away. Rameshwaram is very significant in the story of Ramayana as it was full of events of Rama in his process to conquer Sri Lanka. It is in fact the most devoted place of Hindus.>
Travel information
:
Madurai airport at 173 km away is the nearest airport. The railway line in Rameshwaram connects with all the major cities of India like Chennai, Madurai, Coimbatore, Trichy and Tanjavur. The state transportation as well as private bus services operates in Rameshwaram. This is the cheapest mode of transportation for local and out city transportation. The people speak Tamil, Hindi and English. The climate of Rameshwaram is hot and humid round the year. The climatic temperature ranges from 25 to 37 degree Celsius. As per the season of visiting is concerned, it is favorable throughout the year but the best is from October to March.
Places to See
:
Ramanathaswamy Temple is famous for its massive granite columns. It was built in 17th century in the eastern side of the island near the sea. The water of the temple tastes different. The building of the temple is worth visiting. Agniteertham Temple is built a hundred meters away from the place where Rama worshiped Lord Shiva to purify his sin for killing Ravana. Gandamadana Parvatham is a shrine where a foot imprint of Lord Rama is found in a wheel. It is built on the highest point of the island 2 km away from Rameshwaram.
Rameshwaram Places to See - Best Price with Free Itinerary Suggestion