Introduction
:
Rajasthan is considered to be the essence of India. It is a place of beautiful forts and strong impenetrable palaces. The sun is scorching to its full extent in the land of Rajasthan. But there are also shimmering lakes popular for its tourist destination. The Thar Desert spreads throughout Rajasthan not stopping to encroach by time. Rajasthan is in fact the second largest state of India almost similar to the size of France. Even though it is a dry place it was a prosperous place at one time in history. Many foreign countries from all over the world approached Rajasthan in connection with trade and commerce.
History
: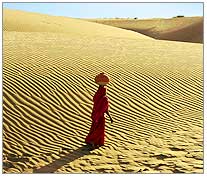 According to mythology, Lord Rama once refills an arrow on his bow to finish Lanka, the kingdom of Ravana where his wife has been captivated. All the gods pleaded to Lord Rama to Kindly spare the universe from destruction, but unfortunately the arrow has to be shot anyway. Hence, he relieves his arrow to a far sea and the sea became dried, hot, arid and rose to the current desert of Rajasthan by the power of the Lord's arrow. Excavations reveals the existence of marine lives in past centuries by the fossils recovered. The earliest civilization, Indus Valley Civilization 4,500 years ago was more of recent urban civilization.
Travel information
:
This golden land of India is located in the northwestern part of India. Rajasthan in fact is a very well planed place for the tourist hangover. Rajasthan is an arid place and is not suitable to visit during summer. The period of October to March is the best season to visit Rajasthan. The Rajasthan State Road Transportation Corporation buses run all over Rajasthan and to its neibouring states. The airways connect Rajasthan to all the major states and cities of India. A delighted railway service, Palace on Wheels acts as a prime means of touring Rajasthan. Its tour takes the tourists starting from Delhi to Jaipur, Chittaurgarh, Udaipur, Jaisalmer, Jodhpur, and Bharatpur etc.
Places to See
Mandawa
Mandawa lies in the heart of Shekawati region. Shekawati comprises the districts of Sikar and Jhunjhunu and known the world over for its painted Havelis. Mandawa is a convenient base for making excursions to other towns of Shekawati like Chirawa, Jhunjhunu, Nawalgarh, Mukundgarh and Dundlod for their painted Havelis.
Thakur Nawal Singh founded this fort in the desert town of Mandawa in the year 1755. Three magnificent gates lead the visitors to the interior of the fort, which is menacingly guarded by huge cannons. Castle Mandawa has an ancestral in-house Museum with interesting numismatic collection, costumes of Rajput warriors and silver objects. The major attractions are the wall paintings, havellies and frescoes of Shekhawati. In the simple town of Mandawa it is this castle is towering and thus easily traceable by any tourist or traveler to the land.
Rajasthan Places to See - Best Price with Free Itinerary Suggestion