Pune, the erstwhile capital of Maratha. Also known as the cultural capital of the state, it is hometown of famous poets, writers,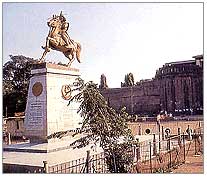 singers and artists. After a royal breakfast in the train, step out to discover this early home of Shivaji, the great Maratha warrior..
Places to See:
Phule Mandai
Phule Mandai, the old central market, named after the great social reformer Mahatma Jatiba Phule. It consists of a large octagonal central tower with Gothic features and arms radiating from it.

Aga Khan Palace
A historical monument where Mahatma Gandhi and his wife were imprisoned along with other national leaders after he started the Quit India movement. Listen to the magic of hymns and devotional songs presented by a small group of artistes near the memorial of Smt. Kasturba Gandhi.
Pune Places to See - Best Price with Free Itinerary Suggestion