Introduction
: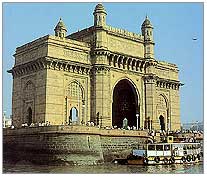 Mumbai is the commercial capital of India. Half of the foreign trade of India is done through this most cosmopolitan city. It is also a capital city of Maharashtra, one of the developed states of India. Mumbai is the industrial hub of almost every industries ranging from textile, pharmaceuticals and many more. It is highly advanced and developed city of India. Number of commercial organizations has their headquarters in India. Reserve Bank of India is one of them. Located on the west coast of Arabian Sea, Mumbai has innumerable fascinating things in store to dazzle tourists. Mumbai is a group of seven islands-Colaba, Mahim, Mazgaon, Parel, Worli, Dongri and Girgaon, which make its favourite destination for beach reveling. The historical monuments and scenic natural sights are major attractions of Mumbai.
History:
The history of Mumbai recounts the growth of collection of islands on western coast of India becoming commercial and cultural capital of the sub continent. Earlier it was called as Bombay, in January 1996 it was officially renamed to Mumbai by then government of Maharshtra. People of Mumbai believe that the name was derived from goddess "Mumba" widely worshipped by original Koli inhabitants. 1993 serial bomb blast and communal riots after demolition of Babri Masjid devastated this city, but still it is flourishing as a most developed and advanced city of India.
Travel Information:
October to April months is the most favourable time to visit Mumbai. During this month weather of this city is pleasant and humidity is comparatively less than remaining days of the year. Person who wants to catch the fun and frolic of Mumbaites during the celebration of most sacred Ganesh Chaturthi, August-September month is the best time to visit this city. Monsoon months of Mumbai should be avoided as during this season Mumbai turn into a flooded drain of India.


Places to See:
Gateway of India
Built in the Indo-saracenic style, the Gateway of India is meant to commemorate the visit of King George V and Queen Mary to Bombay, prior to the Darbar in Delhi in December 1911. The foundation stone was laid on March 31, 1911 and George Wittet's final design sanctioned in August 1914. Between 1915 and 1919 work proceeded on reclamations at Apollo Pier for the land on which the gateway and the new sea wall would be built. The foundations were completed in 1920.


Fantassy Land

The park opened to the public in September 1992 and has since grown from strength to strength adding new innovative entertainment and sporting attractions that have been one of their kind in India.
Fantasy Land is a fun park within the city limits of Mumbai. Located at Jogeshwari on the Jogeshwari Vikhroli Link Road off the Western Express Highway, the park is enveloped in lush green landscape, spread on an area of 30 acres.
There is an array of international rides and games. An Italian merry-go-round in porcelain finish. A Dragon that clocks to and fro like a pendulum, swinging scores of people at one go. A Master blaster with a dozen arms that lift you high up in the air and then lower you suddenly.
Haji Ali Mosque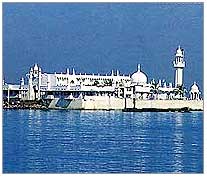 This early 18th century shrine contains the tomb of HAZRATH HAJI ALI, a Muslim Sufi saint. There are two local legends which claim to trace the hazrath's antecedents. One story has it that Haji Ali was a rich , local businessman who gave up materialism after a visit to Mecca and then took up meditation.
Another legend says that he was an Afghan mystic who lived and meditated here. He specifically ordered that after his death , his casket should be cast off into the sea off the shore of what is today Pakistan. However , the casket surfaced intact at the spot where the shrine is today.
Town Hall

With its columns and tall Grecian porticos, this structure has been the foundation of the Library Society of Mumbai which moved into the Town Hall in 1830, soon after which a union was effected with the Royal Asiatic Society of Great Britain and Ireland. One of its greatest assets is its library, a storehouse of knowledge, which may not have an equal in the east.
This pleasantly neo-classical building now houses the library of the Asiatic Society, as well as a small museum. The latter contains statues of some 19th century governors of Bombay, some British scholars and administrators and two Indian philanthropists and an Indian scholar.
University Buildings

Founded by Sir Cowasjee Jehangir Ready money, after whom is named the earlier of the two structures, was designed by Sir Gilbert Scott. Flanked by the High Court and the Old Secretariat, the buildings were completed in 1874.
Bombay High Court

The Bombay High Court is one of the premiere High Courts in the Country. It has Appellate Jurisdiction over the State of Maharashtra, Goa , Daman & Diu. In addition to Bombay Bench it has benches at Aurangabad, Nagpur, Panaji(Goa). In Bombay it has Original Jurisdiction in addition to Appellate. The Bombay High Court has sanctioned strength of 62 judges.
This blue-basalt building in early English Gothic style was designed by Col. J. A. Fuller. It has central tower standing almost 180 ft. Two octagonal towers with their spiralets holding at their pinnacles two carved figures of Justice and Mercy are situated to the west of the central tower.
Mumbai Places to See - Best Price with Free Itinerary Suggestion