Mamallapuram, 60 Kms., South of Chennai, nestling on the shore of the Bay of Bengal, was a port of the Pallavas. The Pallavas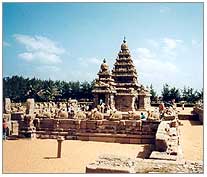 have created many marvellous monuments with Sculpture Panels, Caves Monolithic Rathas and Temples.
Once a thriving port trading with many distant nations, Pallava Chisels have breathed life into stone. The Pallavas art at this place emphasises robust earthly beauty, imbibed with life. These monumental spendours and sunny beach resorts attract tourist from all over the world.
Mamallapuram Places to See - Best Price with Free Itinerary Suggestion