Introduction
:
Kota lies in the eastern bank of the Chambal River. This city is popular for its content of medieval history and modern age industrialization. The unexplored wealth of historical importance like forts, palaces and temples of centuries back is still splendid and retains its originality. Kota is a smaller province extension of the Bundi Kingdom. The massive fort of Kota is ornate with mirror works and ivory works. Bundi is 36 km away from Kota and is picturesque tiny town. Despite the quick research going on all around the nation the town Kota is still remained unexplored by archaeological surveys.



History
: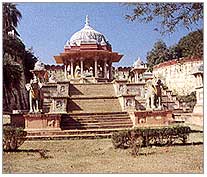 The history of Kota takes back to the 12th century. Hada Chauhan of the Chauhan Dynasty ruled the city of Kota. The Muhammad of Ghori defeated Prithviraj Chauhan in 1193 AD. Rao Deva, the Hada Chieftain, founded Hadoti and Bundi after conquering the territory. Later in the 17th century Ratan Rao Singh the then ruler of Bundi gave Kota a smaller province to his son Madho Singh. Kota is now the image of Rajput culture and gallantry. Some of the Chauhan nobles became allies of the Rana of Mewar and took shelter. Some nobles moved along the Chambal valley and established their kingdom in Hadoti by overpowering the local tribes of Bhils and Meena.


Travel information
:
There is a lot of interesting fairs and festivals in Kota throughout the year. As it is hot in summer in these places, it is advisable to plan visit to these places only after summer. The best season being from September to March. The nearest airport to this place is in Jaipur. From here one can have mobility to all the major cities of India. Railway serves the major transportation for the visitors. It lies about 2 km away from the main city. It connects the city with Agra, Chittorgarh, Banaras, Firozpur, Baroda, Dehradun, Gwalior, Trivendrum, Jaipur and Mathura. Roadways is also available to many neighboring cities of the cities.
Places to See
:
The Government Museum is in the Brijvilas Bhavan Palace. It displays historical coins, manuscripts and remains of Hadoti sculpture. Jag Mandir established by prince Der Deh of Bundi in the lake of Kishore Sagar is a picturesque place to visit. It is renowned for its royal cenotaphs. The Chambal Garden is a beautiful landscaped garden in Amar Niwas charmed by the thick naturally decorating grasses and touring by boats.
The Palace of Bundi is abounded with Rajput architecture and also housing some splendid Bundi Murals. There is a place of fascinating pavilion and miniature murals gallery in the palace of Chirasala, which is worth visiting.
Kota Places to See - Best Price with Free Itinerary Suggestion