KISHANGARH is situated on the National Highway 8 in the Center of Rajasthan, 100 Km South West of Jaipur. It is primarily known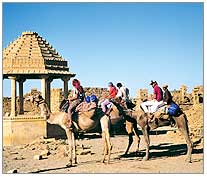 for its world famous Miniature Paintings and Handicrafts and for the largest marble and granite cutting industry in the Country.
Around the fort of Kishangarh is the moat and garden - on which "Phool Mahal" was built in AD 1870 and was the Palace of the flowers for the Maharaja's of Kishangarh A private residence of the Royal Family of Kishangarh opens for the discerning traveler. The Palace has lovely views of centuries old "Gundalao Lake" - where herons fly and peacocks strut in fanned delight. The lake water beneath the graceful Palace is a paradise to flamingoes, pelicans, wild duck and the SARUS CRANE.
Lunch will be at PHOOL MAHAL PALACE.
Kishangarh Places to See - Best Price with Free Itinerary Suggestion