Introduction
:
The description of Jaisalmer's lives and pastures is like an Arabian Night's fable. The harsh glare of the sun is rendered lukewarm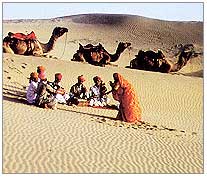 and soothing by dint of cool styles of living and the cultural cushions & boosters. Amidst the arid Thar Desert, Jaisalmer is like an oasis---- the bird's eye view is rather interesting and unforgettably entertaining.The Jaisalmer City was founded as a capital in 1156AD by a Bhatti Rajput ruler Rawal Jaisal borrowing name from him.It still presents the pictures of medieval majesty through Palaces, Havelis, Temples, Narrow Lanes, skilled artisans, and ubiquitous Camels.The very location of Jaisalmer was the main cause of its prominence and prosperity, as it was on the main trade route linking India to Egypt, Arabia, Persia, Africa, and the west.
The grand Golden Fort of Jaisalmer is located and designed with yellow sandstones beautifully, elegantly, and dominatingly surrounded by extensive sand dunes and under the blue skies
The perfect time to visit the golden city is during the Desert Festival held every year in the months of Jan/Feb.This is the time when whole the environment dazzles with melodious tunes and rhythms, folk dances, craft bazaars, camel races, and various contests like turban raying contest, Mr. Desert contest etc.
Jaisalmer Places to See - Best Price with Free Itinerary Suggestion