Introduction:


The Corbett National Park is famous all over the world as "The Land of Trumpet, Roar and Song". One can find some more species of Cat family like Leopards, Panthers, and Wild Cats apart from the Tigers in the Corbett Park. A huge amount of Tigers can be seen near Ramganga. A various kind of bird species of around 500 types both migratory and resident birds can be found here. Peacock, Block Partridge, Kaleej Pheasant, species of Eagle, Falconets are popular here. An additional area was added in 1966 to this park and it is spread over 1318.54 sq km at present.
Species Available
: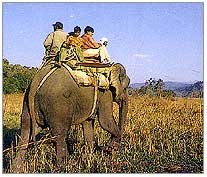 Jim Corbett National Park is a Popular National Park for preservation of tigers. Apart from tigers there are also many species of animals and birds all around the park. Some of the commonly found species of animals include spotted deer, wild boar, sambar, barking deer, rhesus macaques, langur monkeys, peacocks and wild elephants. It is a paradise for those who love to watch birds. One can find a rich collection of about 580 different species of birds in this reserve. The Corbett Park is particularly meant for saving the animal and plants of Ramganga river valley mainly the tigers and gharial crocodiles fed on fishes. According to the census of 2003 there are around 150 tigers in the reserve and it is a remarkable increase in the number of tigers since the last census of 1976. 16 muggars, the Indian crocodiles and 4 gharial crocodiles fed on fishes were found in the river of Ramnagar during 1974 in the park. Currently the number has increased to 283 young gharials and 301 muggars according to the census of 1997. The reserve is also serving as a refuge to some other animal species like wild cats, leopards, wild dogs, Indian elephant, Indian pangolin and hog deer.



Travel information
:
One can also avail air transportation from Phoolbagh, Pantnagar 50 km away from Corbett Park. The nearest international airport is at Delhi around 300 km away. The airlines connect with the entire major and near cities of India. Travelers can come up to Ramnagar by train and the remaining journey to Corbett is to be completed by roadways to reach Corbett. Roadways is the most convenient and economical means of traveling to Corbett for the near by cities. Buses are running on regular basis connecting with Delhi, Gajraula, Moradabad, Kashipur, Lucknow and Ramnagar. The Park is open all round the year.
Corbett Wildlife - Best Price with Free Itinerary Suggestion