The town of the brave, known for its massive fort atop a hill, which can be singled out for its glorious past.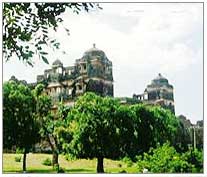 The fort has checkered history, it has witnessed some of the bloodiest battles iln history, three great Sakas and some of the most heroic deeds of valor, which are still sung by the local musicians.
The antiquity of Chittaurgarh is difficult to trace, but it is believed that Bhim the legendary figure of the Mahabharta, visited this place to learn the secrets of immortality and became the disciple of a sage, but his impatience to perform all the rites deprived him of his goal, and out of sheer anger he stamped on ground creating water reservoir, this reservoir is called as Bhim Lat.
Later on, it came under the Mauryas or Muri Rajputs, there are different opinions as to when ilt came under the Mewar ruler, but it remained the capital of Mewar till 1568, when it was shifted to Udaipur.
It is believed that Bappa Rawal the legendary founder of the Sisodia clan, received Chittaur in the middle of 8th century, as a part of the dowry after marriage with the last Solanki princess, after that his descendants ruled Mewar which stretched from Gujarat to Ajmer, upto the 16th century.
Chittourgarh is the epitome of Rajput pride, romance and spirit. It reverberates with history of heroism and sacrifice, which is evident as it echoes with the tales sung by the Bards of Rajasthan.
The main reason for visiting Chittourgarh is its massive hilltop fort, which is a depiction of Rajput culture and values. The fort stands on a 240-hectares site on an 180m high hill that rises rapidly from the plains below.
Thrice a stronger enemy sacked Chittourgarh. The first sack occurred in 1303 when a Pathan King Ala-ud-din Khilji overwhelmed by the beauty of Queen Padmini besieged the fort in order to capture the regal beauty. In 1535 Bahadur Shah the Sultan of Gujarat besieged the fort causing immense carnage and it is said that 32000 men donned the saffron robes of martyrdom and rode out to face a certain death, and the women folkes committed Jauhar (an act of self immolations by plunging in a large fire) led by Rani Karnawati.
In 1568 Mughal Emperor Akbar razed the fort to the rubble and once again the history repeated itself. In 1616 Mughal emperor Jehangir restored the fort to the Rajput but it was not resettled. Today a new township sprawls below the hill on the west side. Chittourgarh is connected by both bus and rail. The bus stand and the railway are located in the new township.
Chennai Places to See - Best Price with Free Itinerary Suggestion