Introduction
:
Aurangabad is a place with good and many excellent restaurants. This place is famous for its distinguished rock-cut temples of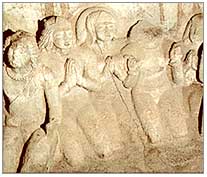 Ajanta and Ellora. The name of this city is derived from the last great mughal emperor in India Aurangzeb. It was known as Khadke in the earlier times in 1610 when Malik Amber founded it. Aurangabad is abounding with monuments including the mausoleum for Aurangzeb's wife Bibi-ka-Maqbara looking similar to Taj Mahal. Aurangabad is popular for its Bidri work and Himroo products. It is regarded as one of the fastest growing city of India in terms of industries and education at present.



History
:
Aurangabad is named after Aurangzeb the great Mughal emperor. Aurangzeb was a popular Mughal emperor in Indian history. Aurangabad has been a very important place since history as it is the route to that goes across the Asian subcontinent to reach Europe. Textiles, fine embroideries and beads were exported to European countries. Aurangzeb promoted culture and learning amidst the dynasties of Satavahanas, Vakatakas, Challukyas and Rashtrakutas. Aurangzeb encouraged great poets, saints, and philosophers like Eknath, Ramdas, Wali, Siraj and Dhyaneshwar. Aurangzeb was the last powerful mughal emperor and his empire ended while fighting with the Marathas.



Travel information
:
Aurangabad is an industrialized city with proper means of transportation and communication locating in the northern part of Maharashtra. It is hot in the summer. The best season to visit Aurangabad is during November to February. The airport is just 10 km away from the main city. It connects the city to Delhi, Mumbai, Jaipur and Udaipur. Aurangabad is also connected with the most of the Indian cities by railways. Railway network operate through Hyderabad, Secunderabad, Mumbai and Delhi. There is a good network of roadways too connecting Pune, Nasik, Indore and Mumbai.
Places to See
Aurangabad Caves

Aurangabad Caves are artificial caves, dug out of the rather soft rock during the 6th and 7th century. This caves are found on two separate locations, called Western Group Caves (caves 1-5) and Eastern Group Caves (caves 6-10), about 1km from each other. Each group has five caves. The architecture and iconography is influenced by Tantric Hinduism.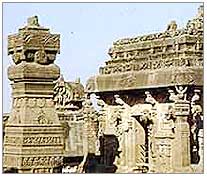 Cave four of the Western Group Caves is the oldest cave. It is a Hinayana Chaitya with a ridged roof like the Karla Cave near Lonavala. Hinayana (Sanskrit: Lesser Vehicle) is the more orthodox, conservative schools of Buddhism. Chaitya (Sanskrit) is the word for a funeral monument. There is a stupa in front of it, now partially collapsed.
The other four Western caves are viharas, which are an early type of Buddhist monastery consisting of an open court surrounded by open cells accessible through an entrance porch. The viharas in India were originally constructed to shelter the monks. Cave 3, the most fascinating cave of the Western Group, is supported by 12 finely carved columns. They show sculptures portraying scenes from the Jataka tales.
Bibi Ka Maqbara

Shah Jahan built the Taj Mahal, in Agra, in loving memory of his wife Mumtaz. His son Aurangzeb, who overthrew him, built the Bibi-Ka-Maqbara as a mausoleum to his wife Rabia-ud-Durrani.
This is the monument for which Aurangabad is best known, probably because it was obviously intended to rival the Taj Mahal, which it imitates. The comparison with the Agra monument has unfortunately somewhat denigrated the Aurangabad tomb which in itself displays a worthwhile architectural design, with much distinguished surface ornamentation in the late Mughal style.
The mausoleum dates from 1678 and it was erected by Prince Azam Shah, one of Aurangzeb's sons, in memory of Begum Rabia Durani, his mother. It stands in the middle of a spacious and formally planned garden, some 457 by 274 metres, with axial ponds, fountains, and water channels, many defined by stone screens and lined with broad pathways. The garden is enclosed by high crenellated walls with bastions set at intervals, and open pavilions on three sides.
In the middle of the south wall is an imposing gateway with brass-inlaid doors; these are inscribed with the name of the architect, Atam Aula. The central focus of this vast enclosure is the tomb itself. This is raised on a high terrace to look out over the garden plots and waterways. Access to the octagonal chamber containing the unadorned grave at the lower level is from a flight of steps that descends from the terrace. The grave is enclosed by an octagon of perforated marble screens. The chamber above is a high square structure presenting identical fagades on four sides. Each is dominated by a lofty portal with a pointed arch, flanked by smaller arched niches of similar design. A great dome, with a pronounced bulbous profile and a brass pot finial, crowns the whole composition while four lesser domes mark the corners.
Aurangabad - Best Price with Free Itinerary Suggestion