The Lake Palace is located on the Jag Niwas Island and covers the whole of 1.5 hectare of the island in the middle of the Pichola Lake. Built by Maharana Jagat Singh in 1743 it was meant as a royal summer palace and now converted in to a five star palace hotel.

City Palace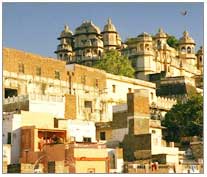 City Palace towers over the Pichola Lake. Maharana Uday Singh initiated in the construction of the palace but succeeding Maharanas added several palaces and structures to the complex retained a surprising uniformity to the design. The entry to the Palace is from the Hati Pol, the Elephant gate.
The Bari Pol or the Big gate brings you to the Tripolia, the Triple gate. It was once a custom that the Maharana would weigh under this gate in gold and silver, which was distributed to the populace. It is also now the main ticket office. Balconies, cupolas and towers surmount the palace to give a wonderful view of the lake.
Suraj Gokhada or the balcony of the sun is where the Maharana would grant public audiences mainly to boost the morale of the people in difficult times. The Mor Chawk is the peacock square and gains its name from the vivid blue mosaic in glass of a peacock that decorates its walls.
Udaipur Tourism - Best Price with Free Itinerary Suggestion