Pushkar Lake
The pious Pushkar Lake, believed to have been created by the falling of lotus from the hand of Lord Brahma. It is considered to be as old as the creation. The lake is considered as one of the most sacred spots, and believed that one dip in the waters of lake on Kartika Poornima is equivalent to performing yagnas for several hundred years.
Pushkar Boat Temple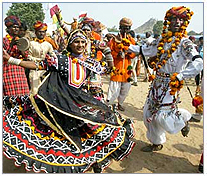 Pushkar boasts temples, though few are as ancient as you might expect at such an important pilgrimage site, since many were deserted by Aurangzeb and subsequently rebuilt. The most famous is the Brahma Temple, said to be one of the few temples in the world dedicated to this deity. It's marked by red spire, and over the entrance gateway is the hans, or goose symbol, of Brahma, who is said to have personally chosen Pushkar as its site

Savitri Temple


A temple dedicated to the first wife of Lord Brahma the Savitri temple is located on the hill behind the Brahma Temple which can be reached by a flight of steps. The temple offers a panoramic view of the lake and the surrounding desertscape.
Pushkar Travel Tourism - Best Price with Free Itinerary Suggestion