Lalbagh Gardens, Bangalore
This expanse of greenery is one of India's most beautiful botanical gardens. It was laid out by Hyder Ali and Tippu Sultan in the 18th century, Within the Gardens there is a beautiful lake with a water spread area of 1.5 Sq.Kms dotted with picturesque tiny islands. It is a good picnic spot.
Mysore Palace, Mysore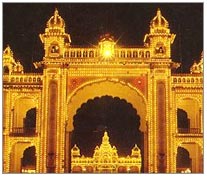 Whre the Mharajas lived… You can't miss the Palace at Mysore, for all roads lead to the Maharaja's Palace. Built in Indo-Saracenic style with domes, turrets, arches and colonnades, the Palace is a treasure house of exquisite carvings and works of art from all over the world. Intricately carved doors open on to luxuriously furnished rooms.
The majestic Durbar Hall has an ornate ceiling and many sculpted pillars. See the magnificent jewel studded golden throne, the pride of the Wodeyars and the symbol of their sovereignty, displayed here during the Dasara. The palace, illuminated on Sundays and Public Holidays, presents a spectacle of breathtaking beauty.
Bangalore Tourism - Best Price with Free Itinerary Suggestion